Kiraleea Japanese Spitz. Breeder/Exhibitor of Japanese Spitz in Wisconsin, United States of America. Puppies & Stud - Breeder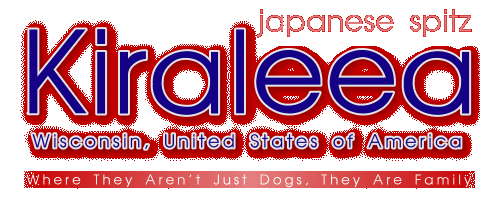 Arya coming home soon!
Noidens Ultra Unique Arya





Arya, Breeder: Maggan Import Sweden

Parents
Grand Parents
Great Grand parents

This site designed by Zephyr Design Maintained and copyrighted © by Konalae Kennels.
© All images shown on this website are protected by international copyright law, and are for viewing only.
This website has been optimised for 800 x 600 Internet Explorer monitor resolution and for 16 bit or better colour.