Kiraleea Japanese Spitz. Breeder/Exhibitor of Japanese Spitz in Wisconsin, United States of America. Puppies & Stud - Breeder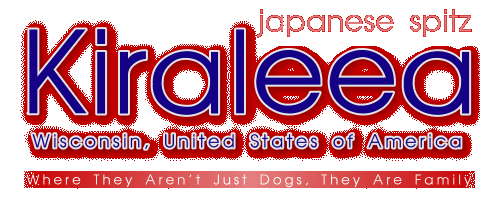 Phoenix
Mondial Hot Under the Collar
My new import from New Zealand bringing back lines from my foundation dog Corey. I am so honored that Sue & Lisa have done this for me. He fits right in of course, and is loving having all this attention. I'm looking forward to getting him into the show ring! Phoenix is truly a happy go lucky puppy



Phoenix, DOB: Breeder: Sue Howard & Lisa Robb, Import New Zealand

Parents
Grand Parents
Great Grand parents
CH SACH FROZEN N TIME AT MONDAIL
MULTI & INT CH SILVER BOW STORM BOY
AUST CH LACEBARK SNO TOYBEAR
LACEBARK SNO DREAM
CH LUCKY STAR OF SACHI
CH MONDAIL BUDDY-OF-SILVER-SANDS
CH SACHI PRONCESS OF ALASKA
MONDIAL GONE IN SIXTY SECONDS
RAZUREE MARSHMELLOW FELLOW
SAILEILLE SUMOS BOY
MONDAIAL SUCH A BREEZE
CH MONDIAL COOKIES AND CREAM
NZ & AUST CHA KIMYATA PUDDLE O MUD
MONDIAL SUCH A BREEZE

This site designed by Zephyr Design Maintained and copyrighted © by Konalae Kennels.
© All images shown on this website are protected by international copyright law, and are for viewing only.
This website has been optimised for 800 x 600 Internet Explorer monitor resolution and for 16 bit or better colour.