Kiraleea Japanese Spitz. Breeder/Exhibitor of Japanese Spitz in Wisconsin, United States of America. Puppies & Stud - Breeder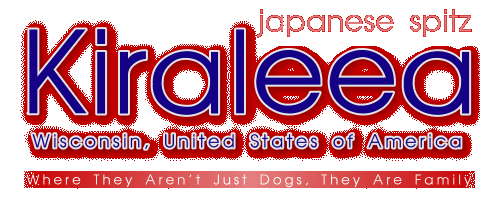 First 2 dogs shows of her career and Best Puppy in Show for both shows


Kiraleea Little Cup of T
Top Winning UKC Dog in 2015


"Tiana"


August 24, 2014 - Tiana has done it again - Best Puppy in Show!
Bringing her career wins... 5 Best in show Puppy and 1 Reserve Puppy in Show. What a show career already after being entered in only 6 shows in her career what great wins! Way to go Tiana!



TIANA, Breeder: Katrina Sandell DOB: 4/13/2014

Parents
Grand Parents
Great Grand parents
CH MANNERKING ORLANDO
AUST

GRAND

CH. DAESDAEMAR LOVERS LANE
AUST CH. HINDCROSS TAISHO (IMP. UK)
AUST CH. MANNERKING MEMORY LANE
AUST

CH MANNERKING KAZASHI

AUST

CH NAPAJ KOOK KUSTOMER

MANNERKING TAJA SUKI
KIRALEEA DANCING QUEEN
GCH ISUMI'S SHIRO OTOJIRO O'REY
SLABODA'S PENNY-WORTH
ISUMI'S SHIRO FUNAKI SACHI O'ASAGI
CH ISUMI'S SHIRO PAZIA JODDY O'GINKO
NEW TOYKO KENNEL'S JODDYH ROWLEYS JUST JUSTIN
ISUMI'S SHIRO GINKO KARA KIKUCHIYO

This site designed by Zephyr Design Maintained and copyrighted © by Konalae Kennels.
© All images shown on this website are protected by international copyright law, and are for viewing only.
This website has been optimised for 800 x 600 Internet Explorer monitor resolution and for 16 bit or better colour.