Kiraleea Japanese Spitz. Breeder/Exhibitor of Japanese Spitz in Wisconsin, United States of America. Puppies & Stud - Breeder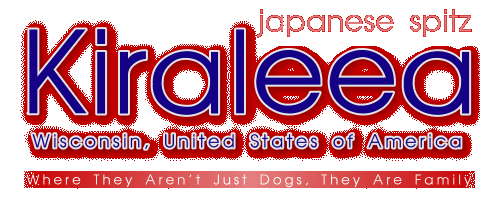 Please enjoy the testimonials from those who currently own a Kiraleea Japanese Spitz



Chi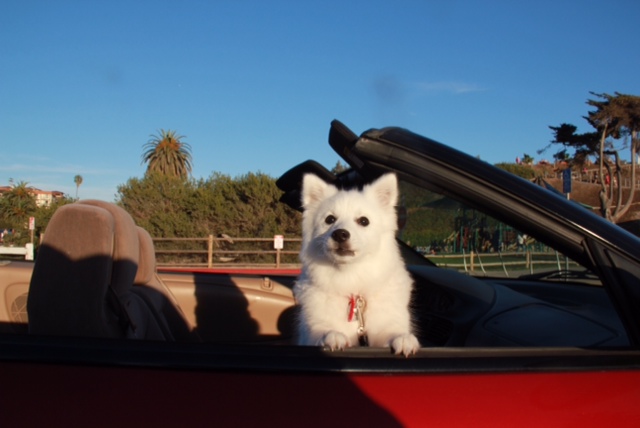 I thought I would send you a few photos of "Chi". She is a wonderful dog and we love her very much. She goes with us in the car and we take her hiking frequently. My kids and my girl friend adore her. She is very spoiled by us. She loves to play and she "play barks" like you say her mother Aspen does. She is very smart and sweet. Pretty much every time we take her out she gets complements and questions about what breed she is. She loves to meet new people and other dogs, especially children. Thank you so much!!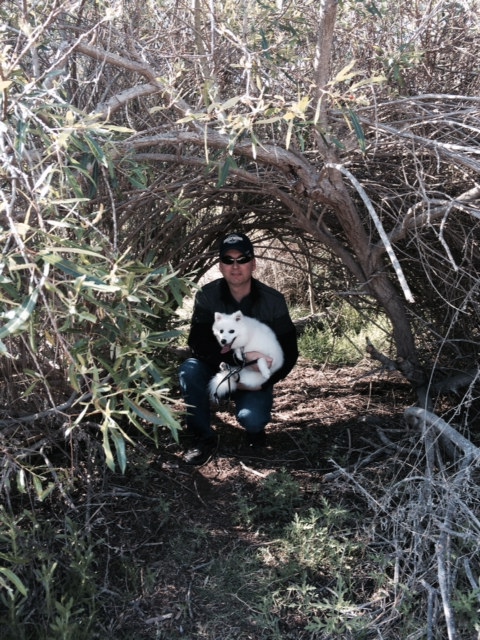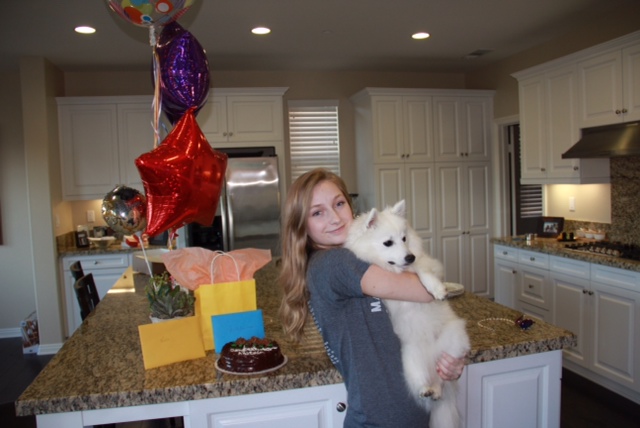 Princess   
I previously owned a Chinese Shar-Pei, named Angel, which had to be euthanized due to kidney failure. The specialists who diagnosed Angel explained to me that the kidney failure was genetic problem through breeding practices. I was heartbroken, although, since I've always had a companion dog throughout my entire life, I knew I would be getting another dog. I began researching every dog breed known to mankind in an effort to find a breed who would not have a trail of genetic issues to content with. That's when I discovered the Japanese Spitz, which revealed little-to-no genetic issues behind them. When I contacted Katrina, I could tell she was a responsible breeder and she was so patient with me and answered any questions I had. She wanted her puppies to go to good homes and sent me paperwork to fill out. I followed all her requirements to a tee and was so excited about getting a beautiful Japanese Spitz of my own. Katrina sent me digital photos of the puppies from birth and all the weeks following, until my puppy was ready to take an airline flight from Wisconsin to California. Upon receiving my puppy, who I named "Princess," I was absolutely ecstatic. LIttle Princess was just as cute as a "fluff-muffin" can be! I had already made arrangements with Christine Lee, owner of Pawsitive Training, to help me learn how to train Princess. After our second week of "Puppy Kindergarten," the dog trainer, Christine Lee, was so pleased with Princess. Her words were, "I've never trained a Japanese Spitz before, but for her age, (which was 10-weeks at the time) she's the smartest breed I've ever worked with." Princess is an absolute treasure in our home, and she knows she's a princess, spoiled rotten! Her grooming takes little-to-no work at all, her coat feels like Angora and any dirt just seems to slip right off. Her beautiful black eyes reflect all kinds of personalities ... the "look" that says, "I'm ready for mischevious," the look that says, "Let's Play!," and the look that says "Where's My Food," or "I'm resting now, don't bother me." Princess has a wonderful loving personality that speaks "To Know Me, Is To Love Me." And we do.
~ Marlene ~




Yuki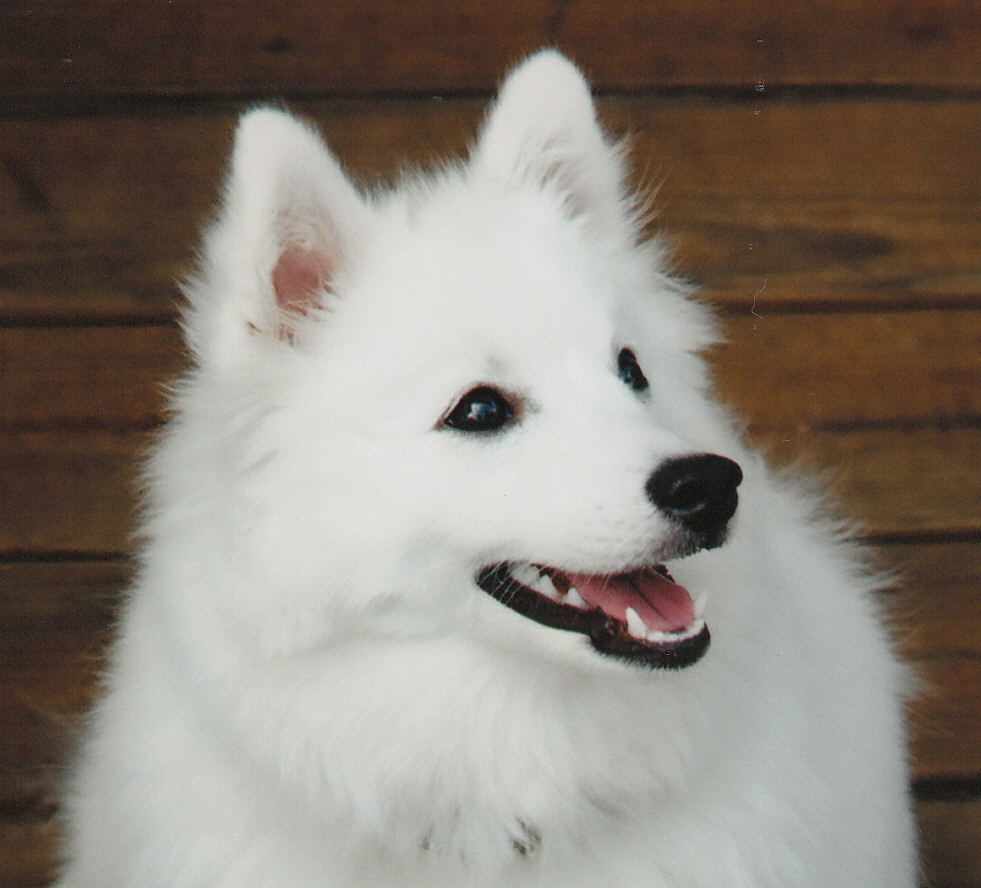 The week before Thanksgiving in 2007, John and I had to put Bear, our 14 year old Japanese Spitz, to rest. It was such a sad experience that neither one of us had ever done before. Several months later we knew we needed to fill our home with another dog. We looked at several other breeds, but we were still drawn to the Japanese Spitz. That's when we searched on line for breeders of the Japanese Spitz. John and I saw a few breeders, but we were immediately drawn to Katrina's website. We called her right away to talk to her to see if she sounded as good as her website. After speaking with Katrina we knew she was the breeder for us. She is very knowledgeable about the Japanese Spitz. She treats her pets as you would family members. She always has time to answer any questions you might have. We knew about our puppy, Yuki, from the day she was born. Katrina sent us pictures all of the time so that we could see Yuki and her litter mates grow. John and I were so excited. Katrina sent us a book about the breed and a care package that included bowls, a leash and collar--pink, of course--, a blanket, and some toys. At nine weeks John and I went to Wisconsin to get Yuki. We were so happy that day. We all cried, including Katrina, but for different reasons. You could tell that she really loved her pups. Yuki is such a great pet. She does think she is a person. She is easy to train and loves us to death as we love her. Yuki loves people and gets upset when we take a walk if someone doesn't greet her. Yuki is almost 10 months old and we wouldn't trade her for anything.

~ Terry ~


Leo

My husband and I adopted a male puppy from Katrina in December 2006. We were extremely happy with the whole process as well as the quality of our dog. We contacted Katrina after looking around on the Internet for a breeder. We were a little nervous about obtaining a dog this way, especially a rather expensive one. All the books tell you not to buy a dog sight unseen or without visiting the breeder and breeding grounds. But as you have probably figured out, breeders for the Japanese Spitz are hard to come by and our options were very limited. After visiting her website and talking with Katrina on the phone ,we had an instant liking for her and felt pretty comfortable. She was very willing to answer any questions we had about the dogs or herself from the very beginning. And I had a lot of questions because we had never owned a dog before . She was very patient and helpful. We developed a tentative trust and decided to go for it. As soon as the pups were born she emailed us pictures and continued to do so every day or two until we received our pup. It was sooo exciting for us to rush to the computer after work each day to see if any new pictures had arrived. It made it so much more real. We started forming an attachment to our puppy from the very beginning. Also we felt more confident in Katrina because we were seeing the puppies regularly and they always looked healthy and happy. Our trust in her increased every week. She picked out a puppy for us based on our conversations/requests/concerns. Katrina made the process of having our puppy flown to us very easy and she was very accommodating. Katrina's concern for his welfare was as least as high as ours if not more so. We ended up with a beautiful, loving, happy, well-socialized puppy who has grown into an amazing, sweet, funny, well-socialized dog. He is just perfect for us. We love him so incredibly much. I have absolutely no regrets would definitely purchase another dog from Katrina again. She is the absolute best. We still keep in contact with her. We send her pictures and updates and she is always happy to see or hear how he is doing. She still loves him and all the dogs as if they were her own. We have occasionally still had questions over these first 2 years and she is always happy to help us out. We have complete trust in Katrina and would take any dog or puppy of hers again in a heartbeat.

~ Cathy and Mike ~




CHARLIE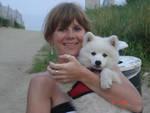 I first spoke to Katrina over the phone, which I thought was going to be a quick chat regarding the puppies… and about an hour and half later; we finally hung up and I knew I made the correct decision to buy a puppy from her and the Japanese Spitz. I couldn't be happier with my puppy and the service that Katrina delivered through the whole process. I had many questions and she patiently answered all of them. In March, my puppy will be 1 and I can still call Katrina with questions and she's more than happier to chat with me and help me out. It's very refreshing and reassuring, since I hadn't ever bought through a breeder before. You will be completely satisfied with Katrina and the Japanese Spitz.

– Shelly Noland, proud owner of Charlie






KEIKOU
AND
PORTIA

I did a great deal of research to find the perfect breed of dog for our family, as we had just laid our family cocker to rest after 15 years. I decided on the Jap Spitz after a great deal of reading and went on to my search for a reputable breeder. I did speak to several of the breeders, one of them I was not at all comfortable with due to several comments that were made. I went on to speak to Diane (who I don't believe is breeding any longer) she suggested that I contact Katrina, since she was to be expecting a litter soon. I called her and after chatting for quite some time I knew that I had found the perfect breeder for our newest member of the family. I just could feel how much she obviously loved her dogs, loved the breed and loved her puppies.
She soon notified us that the litter had arrived. We received constant updates as to their status both in the form of photos and information. Katrina really took the time to get to know our personalities, so that she could pick out just the right puppy for us. She sent us wonderful little care packages to be prepared for our new puppy's arrival with plenty of information on the breed and she encouraged us to be informed. She was so knowledgeable about everything every step of the way that I had no worries at all about anything. She took great care to insure that the flight Keikou was to be on was not too warm for her and that the trip would be as expedient and calm as possible.
Keikou arrived to us as content and as happy as if we had picked her up at Katrina's house. She came bouncing out of her crate ready to play. She joined our family and we soon found out how adept at puppy selection Katrina really was. Keikou is the perfect balance of playful and calm for our family. All of the things that she told us about the breed we spot on. We expected that maybe half of what we had heard about the breed might be true and we thought that if that were so, we would still be content with out selection of breed and breeder. Well, after having Keikou for a while we soon realized that half of what we heard, was not true at all…All of it was. If ever there was a perfect dog… this is it in our book. We found ourselves constantly saying "Wow! Katrina has done such an amazing job getting these puppies ready to go to their new homes!" Keikou was and still is such an easy going little girl. She is confident in herself and yet there is no attitude, which comes with it. She was well socialized, not fearful of anything, and overall perfectly balanced.
We are so thrilled with our decision to own a Japanese Spitz and even more than that, we are so thrilled. with our decision to have Katrina as our breeder. We have formed such a wonderful bond with her. We still stay in close touch with Katrina and see her whenever we have the opportunity, and we try to chat frequently and exchange photos and stories.

A short time ago, Katrina had a dilemma with one of her girls…Portia had some difficulty in the delivery of a litter and experienced a rupturing of her uterus. She had to have an emergency C-section and needed to be spayed. She could no longer have puppies and consequently could no longer participate in the show ring. Mishka, being the dominant female also didn't allow her to get much loving from Katrina, so Katrina was faced with the difficult decision of placing Portia in a home where she would get the loving and affection she needed. We were blessed to have Katrina select our family as Portia's new family. She came to us in September '08 and from the moment that we opened her crate at the airport, it was a perfect fit. Keikou went with us to pick her up and welcomed her into our family with open paws. It feels as though she was meant to be with us and we love her so much. We just can't say enough about Portia, Keikou or Katrina. Our entire family is so blessed to have Katrina in our lives and consequently, Keikou and Portia. We are all better off for knowing them, they have been a great gift and blessing to our family.

~ Michelle Milavetz





MISKI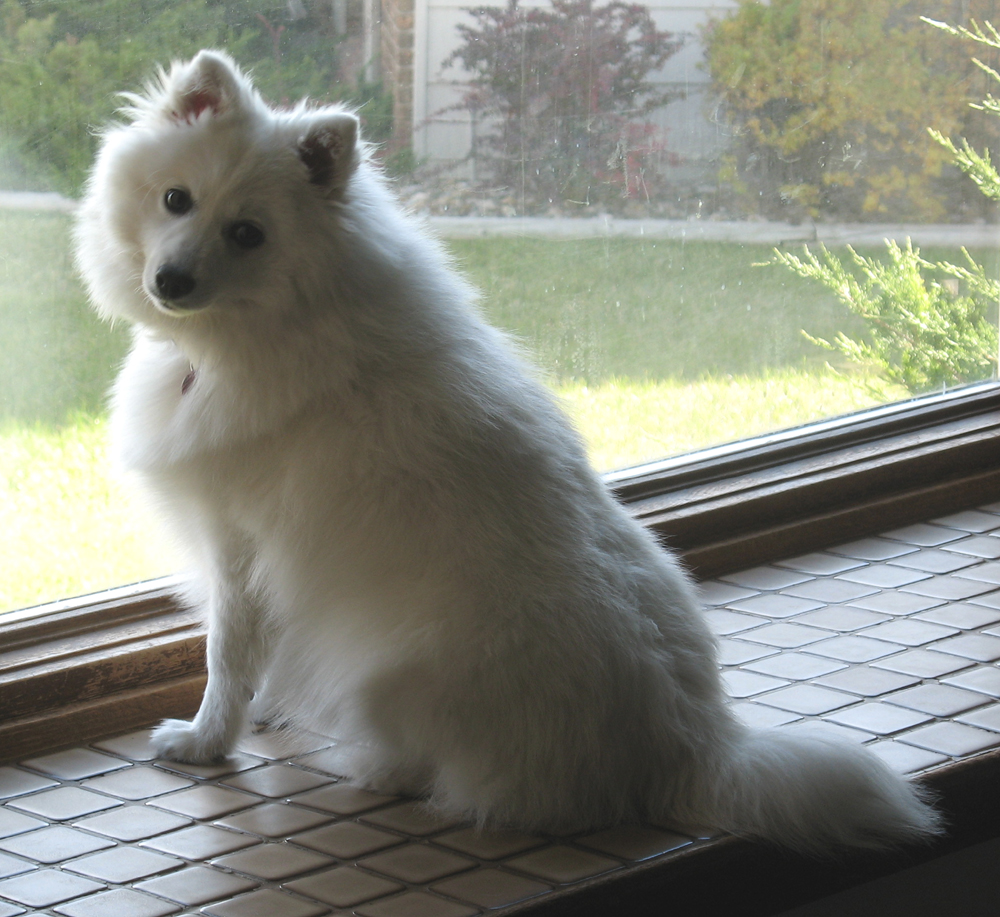 My wife Julia and I originally had quite an experience with our first puppy, who was a Japanese Akita named Sami. As she grew and became more powerful, it was quite apparent that we should have opted for a smaller dog! After finding Sami a new home, our search began for a smaller breed, and we decided on a Japanese Spitz, which are very clean, quiet, affectionate and playful dogs. Our search led us to Katrina, who went out of her way to assist us in finding our beloved Miski, before I left to deploy to the Middle East with the Air Force. Miski was to help Julia get through the loneliness of my departure. She was the runt of her litter, but she was perfect for us, being smaller than the norm. We drove to Wisconsin to pick her up, met Katrina and Miski's family and saw how hard it was for Katrina to say goodbye to Miski. From before Miski was even born, Katrina was a wealth of information for us and kept us informed about Miski and her family until the day we arrived to pick her up. Miski just turned 1 in March of 2009 and is a very special part of our family. She loves being outside, especially in the snow, and is hard-headed sometimes when it's time to come back inside. She also is very clean, not wanting to go to the bathroom twice in one spot! Miski loves kids and new strangers, unless they own a cat! She developed this dislike after the neighbors' cats would come and use our back yard for a toilet and then hang around. Miski can sense cat ownership and will bark at cat owners instead! One of Miski's favorite hobbies is looking out the window and watching the world (and cats) go by. I wholeheartedly recommend Katrina if you're looking to add a wonderful companion to your family.

~Julia and Alex~



Please contact for further information -
Katrina Sandell
kiraleeajs@yahoo.com
Watertown Wi 53094
920 248 9162


Home: Bella: Caprice: Liam: Chanel: Phoenix: Sierra: Orlando: Jasper: Eclipse: Tiana: Caspian: Gallery: Testimonials: Retired: Memorial:


This site is designed by: Zephyr Design Maintained and copyrighted © Konalae Kennels.
© All images shown on this website are protected by international copyright law, and are for viewing only.