Kiraleea Japanese Spitz. Breeder/Exhibitor of Japanese Spitz in Wisconsin, United States of America. Puppies & Stud - Breeder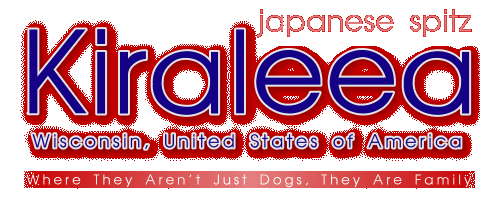 Meet Eclipse...


CH Isumi's Shiro Pazia Joddy O'Ginko
(Import Sweden)





Eclipse comes to me from Carina of Isumi's kennels in Sweden and I thank her from the bottom of my heart for allowing this new addition to come to me!



ECLIPSE, Breeder Carina Lundgren, Sweden

Parents
Grand Parents
Great Grand parents
NEW TOYKO KENNEL'S JODDY
ARCHERY OF CHANEL KAMIYA
ALPHAROMEO OF FUJIOKA SONG
AYU OF SWEET MILKY KISS
NEW TOKYO KENNEL'S POP
XANTHE OF RIVERSIDE M
QUALTEE OF STAR MUROHOSHI Jp
ISUMI'S SHIRO GINKO KARA KIKUCHIYO
KIKUCHIYO OF SHONAN SHUMIRESOW Jp
HARUNA OF NADESHIKO LAND
KONTUJI'S DELIGHT FLASH
DK UCH INT UCH NORD UCH ROWLEYS NEON FLASH
SE UCH ROWLEYS FREEDOM FIGHTER
KONTUJI'S DELIGHT FLASH


This site designed by Zephyr Design Maintained and copyrighted © by Konalae Kennels.
© All images shown on this website are protected by international copyright law, and are for viewing only.
This website has been optimised for 800 x 600 Internet Explorer monitor resolution and for 16 bit or better colour.


Kiraleea Japanese Spitz. Breeder/Exhibitor of Japanese Spitz in Wisconsin, United States of America
Japanese Spitz photo, Japanese spitz puppies, Japanese spitz information